BIOMASS POWER
What is Biomass Power?
Energy can be recovered from a wide range of organic materials, like farm manure, wastewater sludge and food wastes. But wood makes up the bulk of the nation's biomass fuel supply, mostly because there's a large supply of wood fiber that has little value, like debris from forest management and timber harvests, storm clean up and landscaping debris, and wood byproducts from the manufacture of wood goods, like lumber, board, and paper. Most biomass power generation is done with conventional steam turbine systems that simply substitute renewable biomass for coal.
On average, Michigan ranks between third and fifth among the nation's 17 states that host grid-connected, wood-fired power generators. Nationally, the forest products industry produces the most wood-based energy by gathering its own byproducts to produce heat and electricity for their internal operations. However, independent power producers like Michigan Biomass members provide electricity exclusively to the grid under long-term wholesale power contracts to Michigan utilities, helping them provide renewable, reliable power to their customers.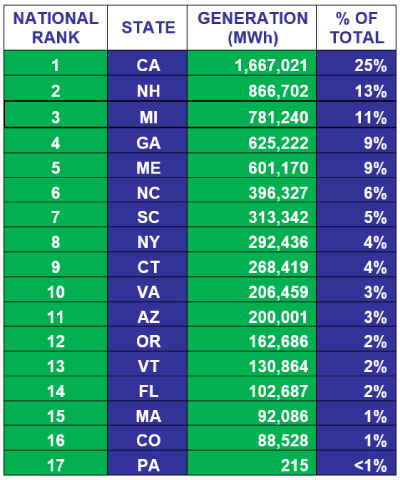 Biomass power is a baseload generation resource, which means it can run where and when it's needed, and that provides a suite of infrastructure and reliability benefits not found in intermittent renewable resources like wind and solar. Biomass power can produce electricity when the sun isn't shining and the wind is blowing, making them a suitable, renewable resource for backup power that can replace similar fossil fuel generation, like natural gas.